Reverend Dr Graeme R. Wilson, MCIBS, BD (Hons), ThM, DMin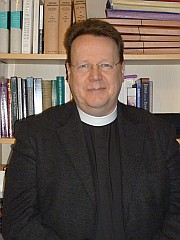 Reverend Graeme Wilson was Inducted to Bearsden Cross Church in January of 2013 after having served as Minister of Galston Parish Church in Ayrshire for seven years before that. A native of East Kilbride, Graeme was a banker in London for 15 years before entering into the ministry. He studied at the University of Edinburgh and Princeton Theological seminary and served as Probationary Assistant Minister at Ayr: St Columba prior to being Ordained to Galston in 2006. He is married to Julie and enjoys playing table tennis and watching Ayr United in his spare time.
Message from the Minister
Welcome to the website of Bearsden Cross Church. We are a congregation of the Church of Scotland and are committed to providing a warm and inclusive welcome to all. Worship is at the heart of what we do as a church and is open to all. If you are new to the area, or are visiting, we would be delighted if you were able to join with us in worship on a Sunday morning at 10.30am. In addition we have a wide range of groups and activities covering all age groups, which take advantage of our central Bearsden location, friendly membership and excellent facilities. Most of our activities are detailed in the
Weekly Diary
. There are also other activities, events, concerts and special events that take place from time to time and details of these can be found on our
Events
page. Our magazine
'Word from the Cross'
is produced nine times over the course of the year and recent issues can be found in the
Magazine
section.
Above all else, my hope is that you will encounter the love of God in Jesus Christ in our worship, and in one another.