Events & News for your diary
---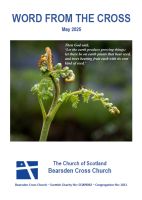 Word from the Cross
current edition of the church
magazine
available.
---
Sunday Services
at 10.30 a.m. Activities for children, Crèche are available.
Upcoming church events
see below, look at the
calendar
or check out the latest via our
magazine
page.
---
Annual Stated Meeting of the Congregation
Trustees, members and friends of the congregation are invited to the Annual Stated Meeting on Sunday 24th March. This meeting will take place in the Sanctuary after morning worship.
The primary purposes of the meeting are to receive the Annual Report and Accounts for 2018 and the Budget for 2019, to elect members of the Congregational Board and receive a report on the various activities of the congregation in 2018.
There will be an opportunity to ask questions.
Lent Studies 2019
The Minister will be leading a series of Lent Studies entitled 'From Now On'. These will be on the film 'The Greatest Showman' inspired by the life of P. T. Barnum.
The studies will explore issues such as hopes and dreams, making a difference, and joy and delight in our faith and life.
The studies will run on three Thursday evenings: Thursday 21st and 28th March, and 11th April at 7.30pm.
If you are interested in coming along please let the Minister or the Office know, or just turn up on the night(s)!
---
For More

on the services together with other events see below, also viewable as a calendar or check out the current issue of our parish magazine.


---