Events & News for your diary
---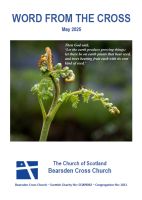 Word from the Cross
current edition of the church
magazine
available.
---
Sunday Services
at 10.30 a.m. Activities for children, Crèche are available. See below for our upcoming church events or look at the
calendar
.
Bible Notes
available, see
Minister's Page
.
---
Lent

Lenten Leaflets
from
Christian Aid
, they also have a similar resource for
children
.
Lenten Lunches
, a short service followed by a simple meal will be held at 12:30 pm on Thursday 22nd and 29th March to which all are welcome.




Afternoon Tea

in Killermont Church in aid of the Bethany Trust will be held on Saturday March 24th 2 - 4pm.



"The Passion"


The life, death and resurrection of Jesus are recreated in this moving, memorable and ultimately joyful retelling of the Easter events.


Performed by a talented cast of three, this original musical passion play will tour throughout the UK in March and September this year.

This musical theatre version of the Easter events will be performed by the Lamps Collective in New Kilpatrick Church on Tuesday March 20th at 1pm & at 7:30pm.


All welcome, entry free, donations welcome.





Reforming the Kirk


A series of three lectures by Rev Doug Gay entitled 'Reforming the Kirk'
will continue this week, viewable live on-line, later by download, on Wednesday 8th at 6:30pm, with the third and final lecture on 15th February.

These promise a candid, forthright and bold analysis of the state of the Church of Scotland and the choices facing it. For further details

He will explore what it means to be 'presbyterian' in today's Scotland, in which even kirk members are ambivalent about their identity. Recognising the significant challenges facing the church in the coming decade, he will offer a manifesto for enacting structural reform, including key economic reforms, within the Kirk and will argue that change is essential to address deep seated problems of decline and dysfunction.

Rev Doug Gay Lecture



Lecture 1 — "Walls Without Church?"


The first lecture (1st February) explores 'what just happened?' tracing the decline of the Kirk as a national institution since the 1960s.



Lecture 2 — "Call and Response"


The second lecture (8th February) explores the relationship between the church's understanding of its own calling and its response.



Lecture 3 — "Grand Designs"


The final lecture (15th February) makes the case for radical structural reform of the Church of Scotland over the next decade.




---
EasyFundraising

is a FREE website service where you can shop with your favourite online stores and also raise funds at no extra cost! You still shop directly with each retailer as you would normally, but simply using the links from the easyfundraising.org.uk site first, each purchase you make will generate a cashback donation to our fundraising campaign.



---
For More

on the services together with other events see below, also viewable as a calendar or check out the current issue of our parish magazine.


---