Events & News for your diary
---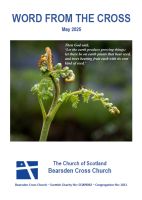 Word from the Cross
current edition of the church
magazine
available.
Note:
If you ordinarily receive a printed copy of the magazine but are able to access the magazine online via the website please let the Church Office know by e-mail:
secretary@bearsdencross.org
At present we are not able to print & distribute copies in the usual way but we will nevertheless endeavour to deliver copies to those who are not online.
---
Follow us on Facebook or on Twitter were @BearsdenCrossCh
On line streaming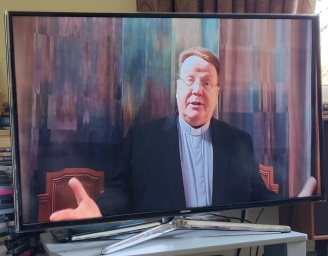 We are now streaming on line a weekly act of worship. However, next Sunday, 31st May at 10am, we will instead join in a National Service of Worship for Pentecost via the Church of Scotland website.

These are via our Facebook page at 10:30am on Sunday morning and are available thereafter for you to catch up later.

Look for the Videos
tab where all of these are available.








Service from Sunday, May 24th



Please note

that the service itself this week starts after some information screens with the organ playing, a little after 6 minutes into the video.



Pentecost:

National Service of Worship next Sunday, 31st May 10am, available from Church of Scotland website:


Church of Scotland


Christian Aid


'Pray for ...' or 'Thank you for ...'
Prayer Tree
: As mentioned by Graeme, the Minister in the service on May 25th, you can now send an email to
bearsdencrossprayertree@gmail.com
with heading '
Pray for ...
' or '
Thank you for ...
'. The Minister will then see that these are hung on our Prayer Tree.

Coronavirus (COVID-19)
In accordance with government advice issued on Monday 16th March and a request issued by the Church of Scotland on Tuesday 17th March about physical distancing and the need to minimise social and religious gatherings Worship in church on Sundays has been cancelled.
Bible Class, Funday Sunday and the Saturday Night Club are also cancelled, as are all other activities based at the church or in our halls.
Scottish Government information is
here
. Follow its '
News
' link for details of changes.
Letter from the Minister
to members of the congregation at this time
here
.
Upcoming church events
see below, look at the
calendar
or check out the latest via our
magazine
page.
---
General Assembly 2019 - Radical Action Plan
For a summary see
Life & Work
For a report on the Kirk Session discussion held on 23rd October see
here
.
---
For More
on the services together with other events see below, also viewable as a
calendar
or check out the current issue of our parish
magazine
.
---