Events & News for your diary
---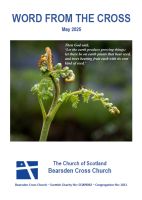 Word from the Cross
current edition of the church
magazine
available.
---
Sunday Services
at 10.30 a.m. Activities for children, Crèche are available.
Upcoming church events
see below, look at the
calendar
or check out the latest via our
magazine
page.
---
General Assembly 2019 - Radical Action Plan
For a summary see
Life & Work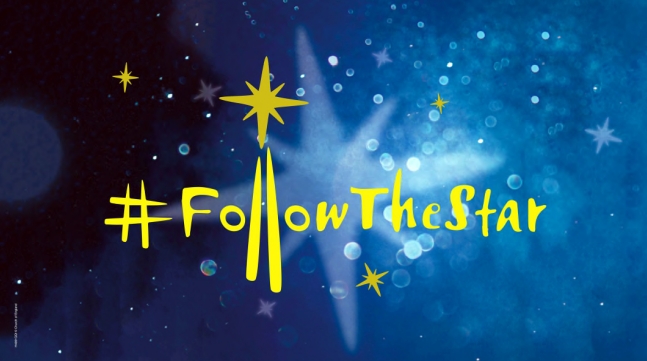 Open Church evenings during Advent

'Follow the Star'


The church will be open during the last week of Advent for short acts of quiet reflection during the pre-Christmas rush.

The church sanctuary will be open from 5pm – 6.30pm on the evenings of Monday 16th through to Friday 20th December and there will be a short time of reflection (lasting 5-10 mins) every 15 minutes.

We hope that this might encourage commuters walking past our Church, and indeed others in the community, to come in to the sanctuary and enjoy some peace and quiet time.

All are welcome to come along whenever, and tea/coffee and mince pies will be laid on too so there's no excuse not to come!





Bible Basics



The book of the Acts of the Apostles (Acts) was composed by the same author as the Gospel of Luke. If the Gospel of Luke tells the story of Jesus' birth, life, ministry crucifixion and resurrection, then Acts tells us what happened next. It is the story of the growth of the early church and the spread of Christianity to the Gentile world through the power of the Holy Spirit.

'Bible Basics' is intended to be a fairly gentle and non-threatening entry into Bible Study and is aimed at those curious to find out some of the basic ideas and themes of Acts. No prior knowledge assumed and no question asked is a bad question! The Bible Studies will take place on Wednesday mornings at 10.30am at the Manse and will last around an hour. I will provide Bibles and the relevant materials.

We will meet on the following dates:-

Wednesday 11th December,
Wednesday 8th January,
Wednesday 22nd Janaury,
Wednesday 5th February,
Wednesday 19th February.


If you think you might be interested then please call me on 0141 942 0507 or email the Minister or just turn up on the day!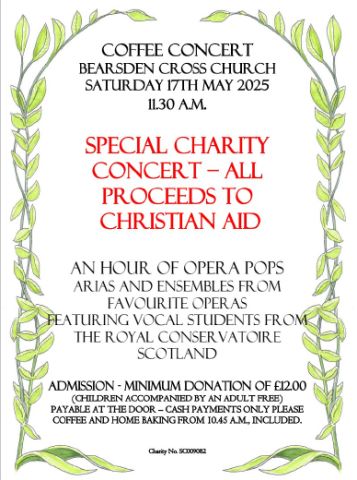 Coffee Concert January Saturday 18th




The next Coffee Concert will be on Saturday January 18th at 11.30 am


Ryan Corbett will give an accordian recital .

Works by Scarlatti, Bronner, Kusyakov, Moszkowski and J.S. Bach.

Admission £10 (Children accompanied by an adult free)

Coffee, included, served from 10:45 am

Tickets from Purple Edge, the Church Office or at the door.






---
For More

on the services together with other events see below, also viewable as a calendar or check out the current issue of our parish magazine.


---