Events & News for your diary
---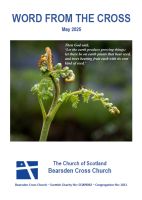 Word from the Cross
current edition of the church
magazine
available.
Note:
The best way to get the most up-to-date issue of the magazine is online from the
magazine
page.
If you are still receiving a printed copy of the magazine but are content to get it online then please let us know that a printed copy is not needed. You can do this by e-mail:
secretary@bearsdencross.org
We endeavour to deliver paper copies to those who cannot get it online.
Worship


An Audio recording of our regular Sunday morning services is available by email, please send an email to
secretary@bearsdencross.org
to request to join this mailing.
We can provide the recording on a USB memory stick, please contact the
Church Secretary
at
secretary@bearsdencross.org
or the Minister on 0141 942 0507.
---
Follow us on Facebook or on Twitter we are @BearsdenCrossCh
Bible Basics, Paul's Letter to the Ephesians

Over the coming months we will look at Paul's Letter to the Ephesians in our series of 'Bible Basics'.

As with last year's series of reflections, we are using video materials produced by Professor Tom Wright aimed at everyone! 'Bible Basics' is intended to be a fairly gentle and non-threatening entry into Bible Study and is aimed at those curious to find out some of the basic stories and themes of the Bible.

'Bible Basics' will take place mostly on Tuesday mornings at 10.30am in the Guild Room and will last around 60 – 90 minutes. All of the relevant materials will be provided. Meeting are planned on the following dates:-


| | |
| --- | --- |
| Date | Topic |
| Tuesday November 28th | Ephesians 3: 14-21 |
| Tuesday December 12th | Ephesians 4: 1-10 |
| Tuesday January 9th | Ephesians 4: 11-16 |
| Tuesday January 23rd | Ephesians 4: 17-24 |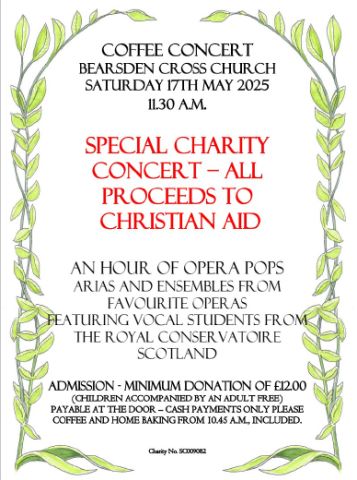 Christmas Concert - Tuesday December 12th at 7:30pm


Cathures Chamber Choir will be giving a concert of Carols and Seasonal Music in the Church on Tuesday 12th December at 7.30 p.m., the net proceeds from which will go to the Glasgow City Mission.

The programme will include Carols for both choir and audience as well as choral items including the wonderful setting of "O Magnum Mysterium" by Morten Lauridsen, often heard on Classic FM.

Cathures Chamber Choir is based in the West end of Glasgow and has been in existence for more than ten years now. Membership at the moment is drawn from a wide area including Glasgow, East Dunbartonshire, Lanarkshire and Ayrshire.

Entry to the concert will be by donation at the door, and we hope for a large attendance in support of this worth-while cause.



Coffee Concert
Saturday January 20th 11:30am


The first in our coffee concerts in the New Year, on Saturday, 20 January, will be given by Alasdair Young, who is very well known in Bearsden Cross Church.


He has given several memorable piano recitals in recent years, which have been hugely enjoyed by our audiences.


His programme will include works by Haydn, Mozart and Beethoven from the centre of the classical repertoire. As usual the recital will take place in the church at 11.30 am preceded by fresh coffee and home baking in the small hall available from 10.45 am. Tickets, priced £10, will be available at the door – cash payments only please. This will undoubtedly be one of the highlights of the season.




General Assembly - 2023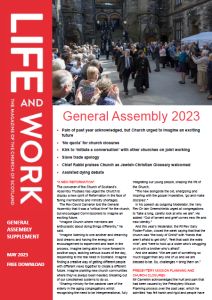 Life and Work has published a supplement reporting on the General assembly 2023.

It's a useful summary of some of the key moments and decisions from this years meeting.

The supplement can be download here.

The supplement is a free download but by purchasing Life and Work you can keep up-to-date with all the latest news on the Church in Scotland and throughout the world, as well as helping to support the Church's work.

Subscription details are here.







'Pray for ...' or 'Thank you for ...'
Prayer Tree for Ukraine
: Worshipers have written prayers and messages on blue and yellow cards and these were arranged in the pattern of the Ukrainian flag.
Please feel free to add your own prayers the next time you are in Church. You can also now send an email to
bearsdencrossprayertree@gmail.com
with heading '
Pray for ...
' or '
Thank you for ...
'. These are only viewable by the Minister who will then see that these are hung on our Prayer Tree.
---
For More
on the services together with other events see below, also viewable as a
calendar
or check out the current issue of our parish
magazine
.
---