Events & News for your diary
---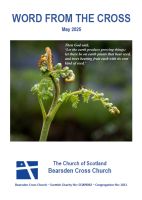 Word from the Cross
current edition of the church
magazine
available.
Note:
The best way to get the most up-to-date issue of the magazine is online from the
magazine
page.
If you are still receiving a printed copy of the magazine but can get it online then do your bit for the environment and please let us know that a printed copy is not needed. You can do this by e-mail:
secretary@bearsdencross.org
We still endeavour to deliver paper copies to those who cannot get it online.
---
Follow us on Facebook or on Twitter we are @BearsdenCrossCh
You can view previous services via Facebook


Worship on Sundays


We offer a recording of the Church service
via Facebook. We aim to upload the morning service in the afternoon. Hopefully the recording will be available online around 2:00 - 2:30 pm on the Sunday afternoon.



Church Coronation Lunch May 7th 2023



Photos from the event, see here.



Christian Aid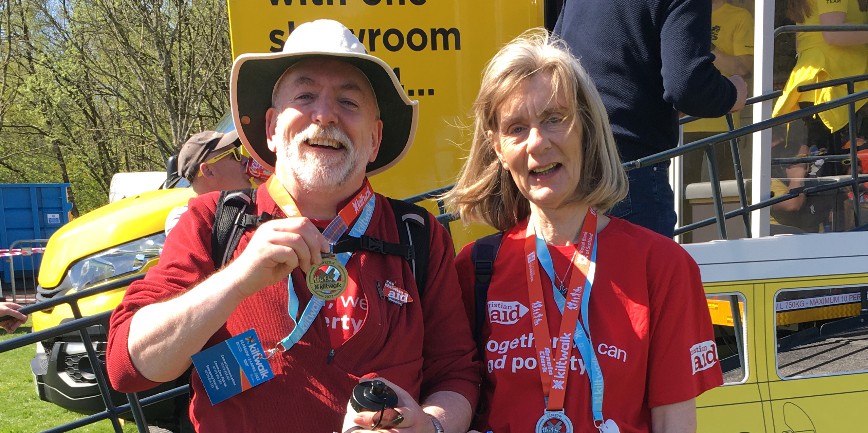 Kiltwalk 2023 April 30th

This year Jim Stewart and Diane Walker are once again rising to the challenge of the Glasgow Kiltwalk to raise funds for Christian Aid. The links to their JustGiving pages for donations are:





Christian Aid Week 14th - 20th May



The appeal this year is for people farming in Malawi, a country very badly affected by climate change. It highlights the difficulties which some farmers have trying to grow crops in drought conditions and contrasts them with others who have been helped by Christian Aid's partners to grow crops such as pigeon peas that can resist drought and enable the farmers to feed their families and also earn money. Christian Aid is asking us to help it extend this support as far as possible.

A flyer will be distributed by the five Bearsden churches around their parishes with details of this years appeal. This flyer contains the web link and a QR code for the JustGiving page for the Bearsden churches to use.

You can donate directly using this link to the Bearsden Churches JustGiving page



If you prefer, Christian Aid Week envelopes will be available in Church for those who wish to donate that way. Please return these to the Church as there isn't a home collection.




The services are on our Facebook page. We aim to upload a recording of the 10:30 am service by early Sunday afternoon. All services are also available thereafter for you to catch up later. Whilst Facebook will encourage you to 'sign up', this is not necessary to view the services. Look for the Videos
tab where all of these are available.
If you know of anyone who does not have Internet access then please let them know that we also offer recordings of the services on DVD or on a USB memory stick, please contact the Minister on 0141 942 0507 or by email at gwilson@churchofscotland.org.uk or the Church Secretary at secretary@bearsdencross.org
If anyone you know is unable to access the Internet, and does not have the equipment to play a DVD or a USB stick, then why not suggest that they try our phone service? You can dial in at a local rate number to hear a recording of the sermon each week. Simply dial

0141 483 7770

and the sermon will play automatically.





'Pray for ...' or 'Thank you for ...'
Prayer Tree for Ukraine
: Worshipers have written prayers and messages on blue and yellow cards and these were arranged in the pattern of the Ukrainian flag.
Please feel free to add your own prayers the next time you are in Church. You can also now send an email to
bearsdencrossprayertree@gmail.com
with heading '
Pray for ...
' or '
Thank you for ...
'. These are only viewable by the Minister who will then see that these are hung on our Prayer Tree.
Upcoming church events
see below, look at the
calendar
or check out the latest via our
magazine
page.
---
For More
on the services together with other events see below, also viewable as a
calendar
or check out the current issue of our parish
magazine
.
---