Events & News for your diary
---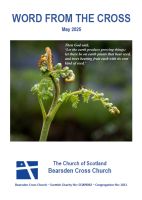 Word from the Cross
current edition of the church
magazine
available.
---
Sunday Services
at 10.30 a.m. Activities for children, Crèche are available.
Upcoming church events
see below, look at the
calendar
or check out the latest via our
magazine
page.
---


World Challenge - Madagascar: Quiz Night 16th February
Through expeditions and community engagement, World Challenge seeks to develop the life skills young people need to lead a life of courage, kindness and adventure. Part of the challenge is that students are expected to raise a proportion of the cost of the expedition themselves. Madagascar is the fourth largest island in the world and lies in the Indian Ocean off the East Coast of Africa.
Harry Talbot, one of our young members, is hosting a Quiz Night at 7pm on Saturday February 16th to raise funds for his World Challenge expedition to Madagascar.
Tickets, £8 (includes buffet etc.) are available from Harry or Elspeth, or from the Church Office.
There will also be a raffle (for which any small prizes gratefully received).
Lent Studies 2019
The Minister will be leading a series of Lent Studies entitled 'From Now On'. These will be on the film 'The Greatest Showman' inspired by the life of P. T. Barnum.
The studies will explore issues such as hopes and dreams, making a difference, and joy and delight in our faith and life.
The studies will run on four Thursday evenings: Thursday 14th, 21st and 28th March, and 11th April at 7.30pm.
If you are interested in coming along please let the Minister or the Office know, or just turn up on the night(s)!
There will be an advance 'screening' of the film on the evening of Thursday 7th March at 7.30pm and all are welcome to this too, even if you cannot make it along to the Lent Studies.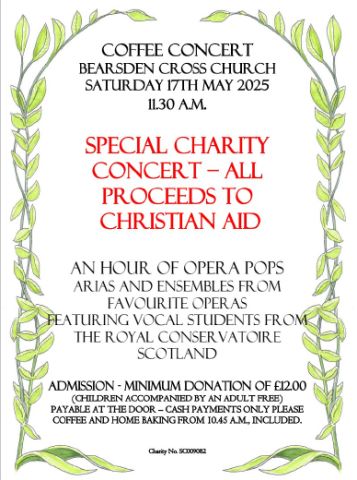 Coffee Concert 16th March




The next Coffee concert is on Saturday March 16th at 11:30 am and will feature the Roxburgh Quartet

Programme to feature:

Haydn's String Quartet in B minor OP 33 No 1

Borodin's String Quartet No 2 in D major

Admission is £10.00, but Children accompanied by an adult are free.

Coffee is served from 10.45 a.m. and is included.

Tickets from Purple Edge, The Church Office or at the Door







---
For More

on the services together with other events see below, also viewable as a calendar or check out the current issue of our parish magazine.


---