Events & News for your diary
---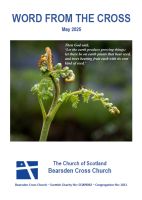 Word from the Cross
current edition of the church
magazine
available.
---
Sunday Services
at 10.30 a.m. Activities for children, Crèche are available.
Upcoming church events
see below, look at the
calendar
or check out the latest via our
magazine
page.
---
New Members
Classes for those interested in exploring potentual church membership are to he held over three Sundays in November. If you are interested, or know of someone who might be, then please contact the minister on 942 0507 or at
gwilson@churchofscotland.org.uk
---
EasyFundraising

is a FREE website service where you can shop with your favourite online stores and also raise funds at no extra cost! You still shop directly with each retailer as you would normally, but simply using the links from the easyfundraising.org.uk site first, each purchase you make will generate a cashback donation to our fundraising campaign.



---
For More

on the services together with other events see below, also viewable as a calendar or check out the current issue of our parish magazine.


---