Events & News for your diary
---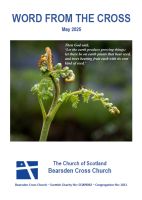 Word from the Cross
current edition of the church
magazine
available.
Note:
The usual means to access the magazine is online via this website.
If you are still receiving a printed copy of the magazine but can get it online then please let us know that a printed copy is not needed, by e-mail:
secretary@bearsdencross.org
We will endeavour to deliver copies to those who cannot get it online but at present we are unable to print and distribute by the usual means.
---
Follow us on Facebook or on Twitter were @BearsdenCrossCh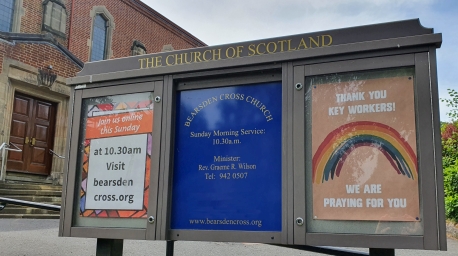 You can view any of the previous services via Facebook

Bearsden Cross Church is open for 'in-person' Worship on Sundays
The Church is open for 'in-person' worship please see below for booking details.

The arrangements are subject to review by the Scottish Government.
The online provision via Facebook will of course continue.

Kiltwalk 2021 in support of Christian Aid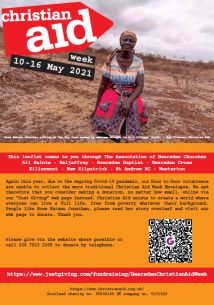 Christian Aid Week is from Monday 10th to Sunday 16th May.

Through the Association of Bearsden Churches – All Saints, Baljaffray, Bearsden Baptist, Bearsden Cross, Killermont, New Kilpatrick, St Andrew RC and Westerton – we have instead set up a JustGiving web page for Christian Aid Week and are distributing the leaflet round the whole of Bearsden.

If you would like to donate to Christian Aid during Christian Aid Week, by far the easiest way to do so is to visit our JustGiving webpage Thank you for your support.



Summary of worship arrangements:

Online worship will continue alongside 'in-person' worship at 10.30am each Sunday.
The online provision can be accessed through the church's Facebook page.

For 'in-person' worship, everyone is welcome! But no-one should feel that they have to be physically present at worship at this time, and should feel comfortable in doing whatever is best for them health-wise.

We are following the advice from the Scottish Government and the Church of Scotland.

Please:

• Reserve your space through the Office, giving your name, telephone number, and email address if you have one. Phone the Church Office (0141 942 0507) between 9:30am – 11:30am on Thursday or Friday for that coming Sunday. If we are oversubscribed for the coming Sunday you will go on to the list for the following week. Please let us know if you are in a household grouping, or if you have special requirements in terms of the 'loop system', mobility, etc. PLEASE NOTE: The Office remains closed to visitors at this time.

• Arrive at the church around 10-15 minutes before the service.
• Follow hand hygiene protocols.
• Wear a face-covering (if necessary, we can provide this).
• Follow our physical distancing arrangements.
• Refrain from singing during the service.
• Stay at home if you have symptoms of COVID, or if you are self-isolating.
• Stay at home if you feel that you or someone you live with is particularly vulnerable to COVID.

Online Sunday worship continues at 10.30am each Sunday and can be accessed through the church's Facebook page.

Above all else, please continue to know God's peace in these difficult times. This is not forever. You can continue support the congregation and the community in prayer at home, in church, and indeed anywhere. For, to quote the hymn, "the Church is wherever God's people are praising." Stay safe and healthy. God bless,

PLEASE NOTE: The Office remains closed to visitors at this time.





Details around Church re-opening (118kb download)
This PDF has further details of the arrangements around Sunday worship that are summarised for you above.


Online streaming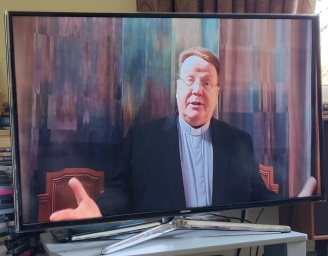 We are continuing to stream a weekly act of worship online.

From Sunday 21st February we started a series of services for Lent, see below for details.

The streamed services are on our Facebook page at 10:30am on a Sunday morning but are also available thereafter for you to catch up later. Whilst Facebook will encourage you to 'sign up', this is not necessary to view the services.

Look for the Videos
tab where all of these are available.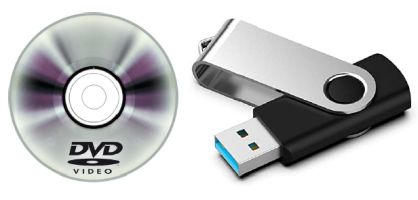 If you know of anyone who does not have Internet access then please let them know that we also offer recordings of the services on DVD or on a USB memory stick.
For a DVD or USB stick then please contact the Minister on 0141 942 0507 or by email at gwilson@churchofscotland.org.uk or the Church Secretary at
secretary@bearsdencross.org



If anyone you know is unable to access the Internet, and does not have the equipment to play a DVD or a USB stick, then why not suggest that they try our phone service? You can dial in at a local rate number to hear a recording of the sermon each week.
Simply dial

0141 483 7770

and the sermon will play automatically.



Preaching the Parables



In the months prior to Lent and Easter the Minister was preaching each week on the parables that Jesus told, and now he will to return to these until the summer months.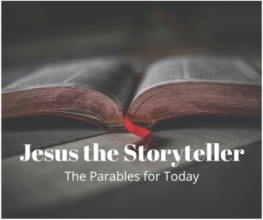 A parable can loosely be defined as "a story with a meaning" and we might also say that the stories that Jesus told were "earthly stories with heavenly meanings."

Advance details of the parable for each week will be in the magazines, and on the Facebook page, so that you might be able to have a read at it (and a think about it!) before each Sunday.

You can revisit these later using the Facebook page videos.

It is hoped that you will continue to find this series of interest.


| | | |
| --- | --- | --- |
| Date | Text | Parable |
| 2nd May | Luke 15: 11-32 | The Prodigal Son |
| 9th May | Luke 16: 1-13 | The Unjust Steward |
| 16th May | Luke 18: 1-8 | The Unjust Judge |
| 23rd May | Luke 18: 9-14 | The Pharisee and the Tax-Collector |
| 30th May | Luke 14: 7-14 | The Wedding Feast |
| 6th June | Luke 5: 37-39 | New Wine into Old Wineskins (Communion) |
'Pray for ...' or 'Thank you for ...'
Prayer Tree
: As mentioned by the Minister you can now send an email to
bearsdencrossprayertree@gmail.com
with heading '
Pray for ...
' or '
Thank you for ...
'. The Minister will then see that these are hung on our Prayer Tree.
Coronavirus (COVID-19)
In accordance with government advice and that issued by the Church of Scotland about physical distancing and the need to minimise social and religious gatherings Worship on Sundays has had to change.
Bible Class, Funday Sunday and the Saturday Night Club are cancelled, as are all other activities based at the church or in our halls. Meanwhile there are virtual meetups for the young people on social platforms.
Scottish Government information is
here
. Follow its '
News
' link for details of changes.
Upcoming church events
see below, look at the
calendar
or check out the latest via our
magazine
page.
---
For More
on the services together with other events see below, also viewable as a
calendar
or check out the current issue of our parish
magazine
.
---